Multicultural Academic Services
Coming to HCC from a local high school? Transitioning from an ESL class? Starting college as an international student? MAS is for you.
Multicultural Academic Services (MAS) provides support for local high school students, international students, and ESL students from the moment they apply to HCC. We offer free academic, career, and transfer advice. MAS staff equips new and transitioning students with the necessary tools to start college and be successful. We cater to students who might be challenged by issues of language, cultural identity, and isolation. Through a one-on-one approach, students are encouraged to develop skills that promote self-authorship, self-advocacy, and leadership.
As a proud HSI (Hispanic-Serving Institution), we at MAS are bilingual: Spanish-English.
who we serve
---
The Puente Experience, under the MAS program, works with high school seniors from the moment they apply to HCC. We provide one-on-one guidance to prospective students and their parents throughout the spring and summer prior to their first semester of college. We then continue to support students throughout their first year of college. The "First Steps to College" seminar offers step-by-step information to students and parents regarding the process of enrolling at HCC (placement testing, financial aid, required documentation, registering for classes, and buying books). Puente also offers peer mentoring, free summer classes, and instructional summer workshops.
The MAS program supports students who have completed the ESL level five class and are transitioning to other courses related to their career. We offer one-on-one support in choosing courses and planning careers. We also offer workshops about financial aid, DegreeWorks, and Online Services. Our bilingual, bicultural staff offer advice driven by their own personal experiences.
The MAS program is the support system for students on F1 visas once they are admitted to HCC. Besides academic advice, we offer wrap-around support around housing, places to visit and shop, transportation, and accommodations.
---
The MAS Program has taught me self-confidence in my academic path. I started my first semester equipped with the necessary tools to succeed."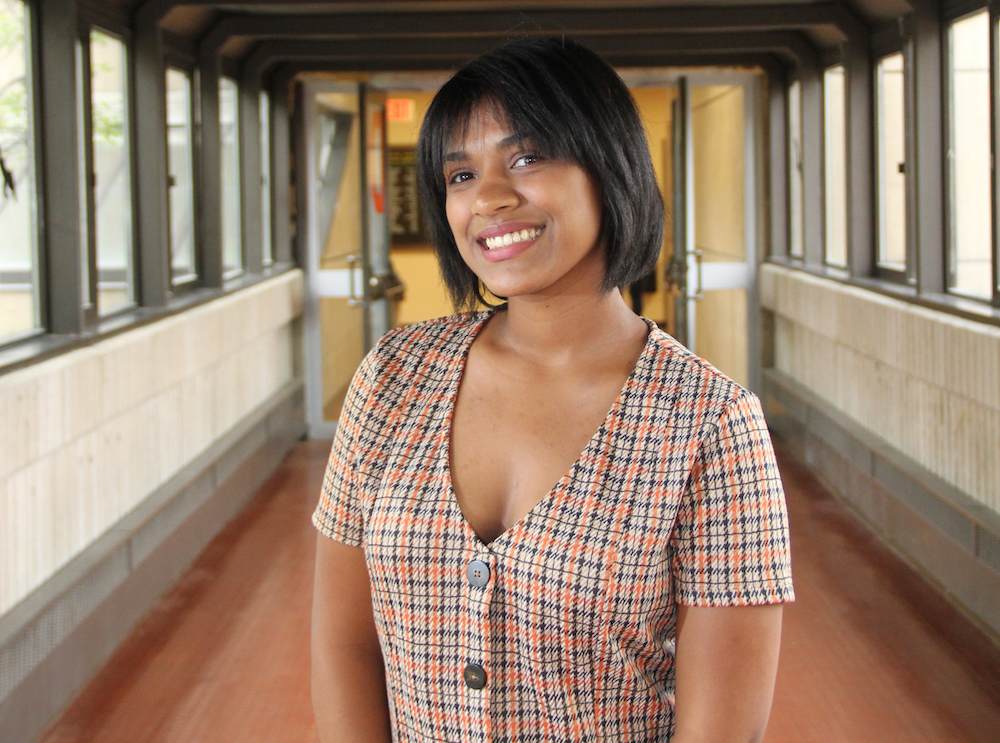 - Zhane Catala
---
MAS resources and programming are available Monday – Friday from 8:30 a.m. – 4:30 p.m. MAS is located in El Centro, on the second floor of the Campus Center.
The MAS student lounge is a cozy space where students can study, rest, or read. A small library, computer, and printer are available to students.
Transportation to the HCC campus is available via PVTA buses. Parking is available in student lots.
TO APPLY
No application is necessary. Simply contact us to access support.
CONTACT
Myriam Quiñones, Coordinator
Phone: 413.552.2539
mquinones@hcc.edu

---
---
---
In fall 2019, the MAS program enrolled 85 new students or 2% of all students enrolled at HCC in fall 2019.
27% identified as male and 73% identified as female.
Students who were new to MAS in fall 2019 were mostly minority students (70%), first-time college students (87%), Pell eligible (81%), and first-generation to college (69%).
Of the 85 students new to MAS, 46 identified as minority, 43 as Hispanic/Latinx, 2 as Black, and 5 as white.
Of the 85 new-to-MAS students, 16 identified as First-time Degree Seeking students.