Admission
In keeping with the recommendations of the CDC and the Massachusetts Department of Public Health, HCC is limiting campus foot traffic in order to maximize social distancing and keep our staff and students healthy. We are moving our student support services to phone, email, and other remote interactive options, including Zoom, Webex, and Google chat.
Whether you are a current or prospective student, please call 413.552.2321 or email our office and leave your name and contact information, and one of our staff will be in touch within 24 hours. Additionally, an admissions representative will be available from 10 a.m. – 2 p.m. Monday – Friday for live video assistance through Zoom (email for details). Please note these are open sessions. If you would like to speak with someone one-on-one, please email the Admissions Office and someone will assist you in making an appointment.
Thank you for your patience and understanding as we make this transition.
Start here; go anywhere.
Whether you're just starting your college education, interested in changing careers, or looking for classes to enrich your life, HCC can help you achieve your goals. For those seeking a certificate, degree, or credits to transfer to a four-year institution, we offer hundreds of courses and nearly 100 degree and certificate options, plus extensive support to help you succeed.
Holyoke Community College is a public institution of higher education with an open admission policy. General requirements for admission to a degree or certificate program include a high school diploma, General Education Development (GED) or HiSET certificate, or completion of an approved home schooling program.
What kind of student are you?
---
---
---
Education is the key to growing, and it's the key to achieving greatness."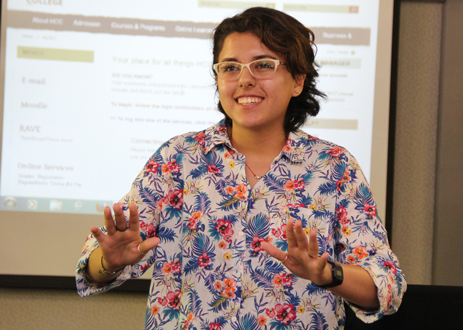 HCC student Karianne Santiago