Center for Academic Program Support (CAPS)
An empowering learning environment.
CAPS is a hub of tutoring centers and academic support programs dedicated to student success.

We offer one-on-one tutoring, study groups, Learning Coaches, and Supplemental Instruction through the Tutoring Center, Math Center, Writing Center, and English as a Second Language (ESL) Center. Additionally, we assist students with math placement test preparation, writing college transfer essays, and writing scholarship essays throughout the year.
---
CAPS taught me how to ask questions, where to go when I needed something and good study habits. The help that I got made it so much easier to navigate college during my first year.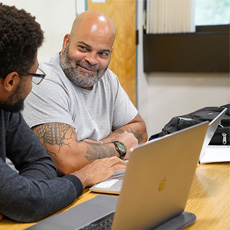 Ralph Mariani
---
TUTORING
CAPS Tutoring: Available on campus and online, Monday - Friday, along with some evening and Saturday hours. View tutoring schedules below:

Quick tips: You can also view CAPS tutoring schedules on Canvas and Navigate! If you need tutoring outside of the tutoring hours above, follow this link to LEOtutor.com.

CAPS Tutors are CRLA Certified.
---
We learn from each other. That's why Supplemental Instruction (SI) exists as a program of peer and professional leaders available to help HCC students work together in challenging courses each semester. If you have an SI Leader in your course, your SI Leader will complete the class alongside you and hold SI group sessions so that together, you can:


Talk about course materials
Prepare for quizzes & tests
Work on assignments
Develop organization & study skills
SI Leaders can also offer individual support and encouragement. Around the world, data shows that students who attend SI Sessions often earn up to half a letter grade higher in their course. Check to see if you have an SI Leader this semester.
Need help with your coursework? You may benefit from weekly sessions with a Learning Coach:

a professional who teaches students strategies that help them reach their academic goals.
LCs support students in being successful by focusing on strengthening
Time management and organization skills
Preparing for exams and note-taking skills
Reading comprehension
an Incomplete grade
With this level of one-on-one support, you can stay on track and succeed academically!
The Center for Academic Program Support (CAPS) provides a positive, collaborative, and empowering learning environment where everyone can enhance their academic skills and abilities. We are committed to equity and to honoring all people as well as developing and maintaining relationships throughout our campus and the surrounding community. Innovative approaches, traditional styles of teaching, and learning are applied across the curriculum. Our services and support are provided in a timely, respectful, and consistent manner to all students, staff, and faculty for the purpose of achieving academic success.
Inspiring students to acquire a set of individual skills that will enable them to do academic work, CAPS aims to create an environment that is accessible and is able to meet the needs of students, which means meeting students where they are. CAPS empowers students to be lifelong learners and good global citizens.
---
Follow Us
---
CONTACT CAPS
---
Resources
Access tutors, math learning coaches, METS mentors, and resources for mathematics, engineering, physics, robotics, and astronomy.
Students: Ready to improve your academic English language skills to succeed in college and beyond?
Ready to get started? Here you'll find access to tutoring in most HCC courses, as well as learning coaches and ALANA mentors.